58th Annual Tierra Del Sol Desert Safari & Expo
Feb 28 – March 1, 2020
The members and families of Tierra Del Sol would like to invite you to our 58th TDS Desert Safari on February 28 – March 1, 2020. Come out and experience the magic and splendor of southern California's finest wheeling. This year will be another epic event with fantastic vendors onsite and the best raffle on the planet (over $150k in prizes)…Yes, we are going to do it again!
TDS holds one of the largest weekend events and the proceeds assist us in fighting to keep Public Lands open.

We are very excited to announce a new location for the event this year!
New location is just a couple of miles down the street from the 4x4 Training Area where the event has been held in years past.
NEW LOCATION:
Salton City Park
2208 Iridescent Ave.
Thermal, CA. 92274
The new location is right across from the AM/PM on Highway 86 at the Salton City Park, a huge 10-acre area.
This is in a 10-acre fenced-in park, this new area is larger and we plan to have an even bigger EXPO Vendor show, Demos, Kids Activities, Great food trucks and more!!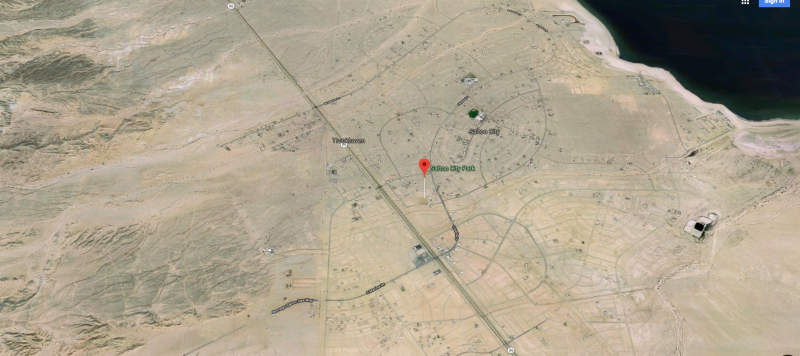 Directions to Safari HQ

Registration/event details 
Hours of EXPO 
Thursday 2/27 – 5pm – 9pm (limited vendors)
Friday 2/28 – 12 noon – 9pm
Saturday 2/29 – 9am – 9pm  Raffle Starts promptly at 7pm!
Sunday  3/1 – 9am – noon (some vendors leave after raffle on Saturday)
Raffle Starts promptly Saturday at 7pm!
Admission/Registration fees
New this year! 
New Location! 
PAID REGISTRATION TO VENDOR AREA/EXPO
Free admission for registered participants! (4 wristbands per registration)
If you do not register:  $5 per person at the gate (kids under 12 free)
What it costs
What you get
$5 per person
Onsite admission (without registration)
Pre-Registration $55
You get 4 wristbands, 1 raffle tickets, 1 punch card for additional raffle ticket, dash paque, bumper sticker, option of trail
On-Site Registration $65
You get 4 wristbands, 1 raffle tickets, 1 punch card for additional raffle ticket, dash paque, bumper sticker, option of trail
VIP Area
$55 per person (does not include event access)
An extremely limited number of VIP Passes available
This will include snacks and beverages
Premiere Raffle Seating – In the VIP tent or in front of the stage
Each registration (not individual admission) will get a punch card to go see select vendors to get a unique punch or stamp to get entered to win an additional ticket to enter into the main raffle!
Merchandise Store and Registration will open soon! Check back!
More details will be available when the store opens!

History of Tierra Del Sol and Desert Safari
1918 – With the end of World War I came the rapid popularity of automobiles. People started coming to the desert and the creation of the The Ensign Ranch and The Di Georgio Corporation started a new era in the region.
1928 – Already citizens were beginning to grow concerned about preserving the desert and Guy Fleming, a Fellow of the San Diego Natural History Museum, started promoting the adoption of Borrego as a State Park.
1941 – Finally the dream was realized and the Anza Borrego Park System was established, but that also brought developers with visions of a desert resort and that required roads. Those early rough trails were Coyote Canyon, Yaqui Pass and the Truckhaven Trail, which at that time was a 30 mile rough road passing over hills, washes and mesas taking 3-4 hours to traverse. It was Doc Beatty who first conceived the the idea of a wagon trail along the base of the Santa Rosa Mountains south to the Badlands and old Hwy 99, emerging near the truck spot known as Truckhaven.
1949 – The first Anza Jeep Cavalcade formed for the purpose of promoting the concept of a 17-mile road into Borrego, Montezuma Valley and onto Warner Springs was approved by the State Park Commission.
1957 -The State Committee consented to the construction of a paved road, which followed the general direction of the old dirt Truckhaven trail wherever possible. It was named the Borrego-Salton Seaway or more commonly known as the S22. It was completed in 1968 and leads so many of us to the Desert Safari each year.
1960's – A Search and Rescue team of local men with CB radios explored the area and ultimately became intimately familiar with the entire area, breaking new trails and figuring out how to traverse the notches, hills and valleys thru their rescue work. Several members started focusing on adventure and exploration and two of these early pioneers, Roy Pruitt and Bozzy Willis.  Bozzy Willis ultimately formed the nucleus of the club they named Tierra Del Sol and created the artwork that is still seen today on all the members vehicles. The club was incorporated as a not-for-profit club in 1962 and the annual Desert Safari was born. Proudly the rosters of TDS still contain family names from the origins with generations following in their forefathers footsteps aspiring to protect these lands for our continued use. Albeit a never-ending battle, the families and members of Tierra Del Sol continue to enjoy the area and work hard to preserve it for the enjoyment of future generations.
2nd Annual Desert Safari Flyer